School partnerships and enrichment team buy back services
11 Feb 2019
The school partnerships and enrichment team (formerly extended services) has extensive experience of working with school leaders to creatively tackle barriers to learning faced by pupils outside of the classroom.
Packages available
We have a range of specific packages available for schools to purchase:
Bespoke consultancy package £1840
Communications package £102
Fundraising support for schools From £506
Marketing your school to parents £1380
World of work £920
Parent power workshops From £255.
The above prices are for Ealing Learning Partnership (ELP) members.
Non-ELP schools will be charged an additional 10%.
Details for each package are outlined in the brochure - click on the image.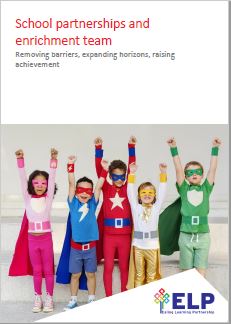 Further information
If you would like to discuss any of the packages on offer please contact Sarah Thompson on the contact details below.
Orders should be placed via the Services for Schools order form on EGFL by 28 February.
Buy back before 28 February 2019
Further information can be found on our services for school page: www.egfl.org.uk/enrichment
Ready to buy back? To access the 2019/20 buy back form, headteachers and nominated buyers can login to EGfL and click on the 'school annual buy back' tab before 28 February 2018.
Contacts
Last updated: 12 Feb 2019