This service is available for Academies, Maintained schools and Other schools and settings
Description:
Ealing Local Authority acts as the appropriate body (AB). Through its quality assurance role, ensures that a suitable early career framework programme of support is in place for early career teachers (ECTs) and that assessment of ECTs is fair and consistent across all institutions.
Log in to view brochure: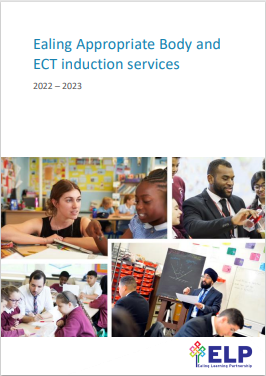 Benefits
Ealing Appropriate Body offers:
a comprehensive ECT service that ensures all schools are supported throughout the year with their induction.
This specialist service offers robust induction systems, ensuring consistency and parity across all Ealing schools.
The AB will ensure a fair system for all schools considering of the number of ECTs per school and membership of Ealing Learning Partnership.
Why choose Ealing Appropriate Body
Ealing Schools' Survey July 2021 highlights
Quality of training / support and guidance 100% positive
'Good and timely support for the school in helping us manage and support one of our NQTs who was struggling to meet standards. Appropriate training offered.'
'Guidance for HT, mentors and tutors is excellent. Adviser is always available, happy to help, often going above and beyond'.
'The training around next year's ECF requirements was superb. Very detailed information and easy to digest.'
Communication 100% positive
'Support programme was very clear and gave lots of suggestions on how to find evidence to support judgements.'
'Requests are always dealt with swiftly. Prompt response and clear follow-up'.
'Easily contactable and responds in good time to queries/ questions. Takes a proactive stance in resolving issues...'.
Value for money 100% positive
The difference the AB service made to schools 100% positive
92 % Ealing continues to maintain high rates of retention
Office hours:
Admin hours Monday to Friday, 10am - 5.30pm
Service directors:
Julie Lewis
More detailed information:
Statutory arrangements from September 2021
Under 2021 arrangements, every headteacher and appropriate body providing statutory induction will need to ensure they meet these new requirements:
all early career teachers (ECTs) have access to a programme of training based on the Early Career Framework
support from a dedicated mentor through regular one to one mentoring sessions, focusing on supporting the ECT through the 2-year programme
the end of the induction period will continue to be marked by a decision as to whether the teacher's performance against the Teachers' Standards is satisfactory
two formal assessments should take place during induction: one midway through induction, and one at the end of the induction period
regular progress reviews to monitor progress, to take place in each term where a formal assessment does not take place.
Appropriate Bodies will continue to play a key role in induction by:
ensuring that early career teachers receive their statutory entitlements and are fairly and consistently assessed
checking whether early career teachers are receiving a programme of support and training based on the early career framework.
Related content:
Additional contact information
Last updated: 17 Feb 2022