Career and professional development
View the detailed indicative programme 2017/18 to help make your final decisions whether to purchase the CPD SLA by clicking on this image: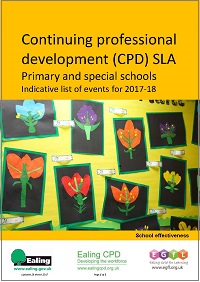 CPD SLA school staff and governors will be able to attend the majority of training free of additional charge.
Visit Ealing CPD online to search, view and book onto professional development and training courses.
You can also download and print CPD event directories (Ealing CPD online).
Choose from the following
Career development for support staff
Support in identifying appropriate training and qualifications for support staff.
Headteacher standards
National standards of excellence for headteachers.
Teacher standards
Professional standards for headteachers and teachers.
HLTA standards
Profesional standards for higher level teaching assistants.
TA standards
Profesional standards for teaching assistants.
Leadership development and succession planning
Information and resources on national and local leadership development and in school succession planning/talent management.
NQT induction
Guidance for schools on Ealing NQT manager.
Last updated: 29 Mar 2017