SEN in the classroom
Network session and inclusion conferences
ELP are committed to supporting you to continue to develop inclusive practice in your schools and have agreed to invest in a range of leadership development opportunities next year. We will continue to run network sessions and hold an inclusion conference.
Anxiety and attachment training
Following your feedback, ELP have agreed to fund a training session led by our EP team on both anxiety and attachment. These 2 part sessions are for any school middle/senior leader, who is happy to lead on sharing the information with theirr school staff:
If you can't attend this term don't worry the sessions will be repeated next term, there are enough places for every school to participate! Take a look at Ealing CPD SEN and inclusion events.
ELP inclusion and wellbeing support programme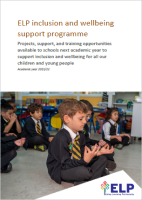 Take a look at the ELP inclusion and wellbeing support programme. Please discuss these new activities with your headteacher. Let me know what you would like your school to be involved in by completing a short survey by 18 June.
SEN specific briefing
In July your headteacher will attend a SEN specific briefing where we will share the current landscape and LA priorities. We will also run a training session for them on legal duties and responsibilities in the new year.
Inclusive practice joint workshops
In the Autumn term I will be running a series of joint workshops with you and your school DHT/Leader of learning, to facilitate conversations about inclusive practice in your schools and provide a space for you to delve deeper into your provision, exploring challenges and agreeing actions as a team.
Key family support
The family information service have produced a new guide to key support services for families (TBA). This is a live document and will be updated regularly.
If you are aware of an organisations/service that you think should be included please email Therese Langford at TLangford@ealing.gov.uk
Transition form
To support transition, we have created an online form. You will receive this from your secondary feeder school SENCo soon. We have also created a nursery to reception version. All PVI settings have seen this form and are ready to complete it for you.
Please send this link to your feeder nursery to gather key information about the children due to come to you in September. Transition Information for Learners with SEND Early Years Microsoft Forms
Contact
Madhu Bhachu, ELP quality and partnership lead, SEND and Inclusion BhachuM@ealing.gov.uk
Last updated: 28 May 2021