Continuing professional development (CPD) and training 2018/19
This service is available for Academies, Maintained schools and Other schools and settings
Description:
A high quality professional development programme delivered locally by a range of internal, external, teaching school alliance, school and associate colleagues with the experience, expertise and knowledge of Ealing and other schools to enable a positive impact on all aspects of school improvement and effectiveness.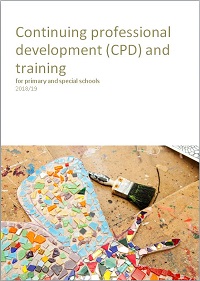 Benefits
Feedback continues to show nearly 100% of delegates 'would recommend the courses to colleagues'
Programme planned and shaped in partnership with schools to meet the priorities of schools as informed by local, regional and national intelligence
Delivered locally in schools or at our well equipped training centre in Greenford
Continuous quality assurance mechanisms in place
Designed and delivered by professionals with appropriate experience and expertise
Close collaborative working with Ealing Teaching School Alliances to deliver a co-ordinated cross borough partnership offer
Competitive prices which offer extremely good value for money and with the option for primary and special schools to make financial and administrative savings via a reduced price annual service level agreement
Bespoke 24/7 online information and booking system www.ealingcpd.org.uk
Infrastructure supports schools to share their own CPD and expertise.
Additional / buy back services
Schools can pay to attend Ealing training and professional development either pay as you go (PAYG) at the advertised rates or on an annual service level agreeement (SLA) basis.
SLA schools can benefit from significant savings in both attendance and administrative costs as well as discounts on most accredited and commissioned programmes.
Additional services subsidised by Ealing learning partnership (ELP):
It will be made clear on CPD Online at www.ealingcpd.org.uk where networks, briefings or events have been funded by the Ealing Learning Partnership agreement for 2017-18 and are therefore either free to attend or subsidised.
Office hours:
Admin office hours:
Monday to Friday (term time), 8.30am to 5pm
Email contact outside of term time via eec@ealing.gov.uk
Specific training events information and 24/7 online booking is available at ealingcpd.org.uk
Planned improvements:
There is an ongoing programme of evaluation, improvement and development including consultation and collaboration with external expertise to ensure a greater impact on standards of teaching, learning, school management, leadership and governance.
Service directors:
Julie Lewis
More detailed information:
We offer a highly relevant programme of networks and training to support the professional development of a range of school groups and leads including:
Governors
School teaching staff and leaders
School support staff
NQTs and RQTs
CPD leadership
Assessment and moderation
Reading and literacy
Numeracy and mathematics
ICT
Science
RE
SEND
Behaviour
Achievement for all pupil groups
Supporting teaching and learning
Aspects of health, safety and safeguarding.
Related content:
Provider:
School effectiveness, children and adults' service.
Last updated: 14 Mar 2018