Extended services 2017/18
This service is available for Academies, Maintained schools and Other schools and settings
Description:
We are a highly skilled team of practitioners with extensive experience of working with school leaders to creatively tackle barriers to learning faced by pupils outside of the classroom.
Benefits
Practical support to schools in a number of areas:
Effectively engage parents in their child's learning
Linking learning to future education and career choices
Advising schools on the commissioning of counselling / therapeutic services
Fundraising for school based projects
Partnership projects between schools to address common needs
Enrichment activities for pupils and families.
In 2016/17, 100% of feedback from schools said that extended services had either an 'Outstanding' or 'Good' impact on outcomes for pupils.
"Governors have asked me to write to you to express their gratitude at the wonderful service you provide. We truly feel that this is value for money." School business manager Castlebar School, 2016
Additional / buy back services
We offer a range of different packages that can be tailored to the needs of individual schools.
Click on the image to download the brochure (includes prices):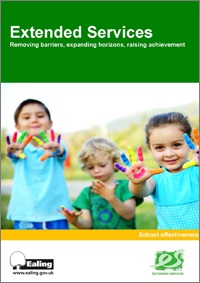 | | |
| --- | --- |
| Extended services bespoke consultancy 4 days | £1800 |
| Harnessing parent power workshops | £950 |
| Reading for pleasure together | £1950 |
| Stay, play and learn together (SPLAT) course | £1800 |
| Ealing Family School Partnership Award | £700 |
| Inspire, aspire and achieve | £1350 |
| Supporting successful transitions primary or high school | £950 |
| Staff INSET - building positive relationships with parents | £1100 |
View further information on package in our service brochure (click on brochure image above).
Office hours:
Monday to Friday, 9am to 5pm.
Planned improvements:
For 2017/18 we have expanded the range of buy-back packages on offer and all can be tailored to meet the particular needs of individual schools.
Service directors:
Julie Lewis
More detailed information:
The extended services strategic partnership (ESSP) includes headteacher representatives from the four primary school quadrants, special schools and a children's centre.
The purpose of the ESSP is to oversee the development and implementation of the extended services programme, ensuring that it is tailored to the needs of Ealing schools.
Related content:
Provider:
Extended services team, children and adults' services.
Additional contact information
Sarah Thompson, Southall extended services locality coordinator (until Sarah Jay returns from maternity leave July 2017)
Email: sthompson@ealing.gov.uk
Libby Giarraputo, Ealing extended services locality coordinator
Email: lgiarraputo@ealing.gov.uk
Maria Wright, Acton, Greenford, Northolt and Perivale extended services locality coordinator, Email: mwright@ealing.gov.uk
Last updated: 06 Jul 2017