Harnessing parent power 2019/20
This service is available for Academies and Maintained schools
Description:
A selection of thoughtfully designed workshops that provide parents and carers with the knowledge, skills and confidence to support their children through all aspects of school life. Workshops are designed, delivered and evaluated by the School Partnerships & Enrichment Team.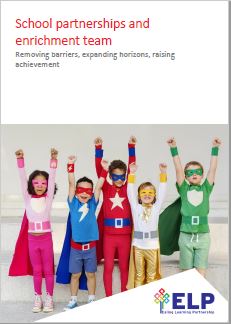 Benefits
This package will benefit schools that want to:
Engage with ALL parents and carers to maximise children's learning potential.
Support parents and carers to better understand how they can help their child with learning at home.
Utilise the expertise of the team to increase engagement with parents and carers who may find working with schools difficult.
96% of parents attending workshops led by the team said they had increased their knowledge and confidence in the topic area.
The School Partnerships and Enrichment Team has extensive experience working across a range of schools to increase the impact of parental engagement. We use tried and tested techniques to maximise engagement, providing quality, friendly and professional workshops that leave parents feeling confident and empowered to better support their child.
Additional / buy back services
Harnessing parent power - one workshop from £255, additional workshops - price on application.
Summary of other packages available from the school partnership and enrichment team for ELP subscribers:
Fundraising support in schools £506
Bespoke fundraising and grant writing £1840
Marketing your school to parents £1380
World of work £920
Office hours:
Monday to Friday, 9am to 5pm.
Planned improvements:
We have developed a number of new buy back packages aimed at supporting schools in areas that we know are a priority such as fundraising, marketing and engaging parents.
More detailed information:
Schools and educational settings are invited to select from the following list of workshop options:
Learning through play
Supporting reading at home (EYFS & Yr1 Phonics focus)
Supporting reading at home (Yr2-6 Reading for Pleasure)
Supporting writing at home
Supporting maths at home
Dealing with difficult questions
Supporting homework
Establishing a fair home life routine
Helping your child have happy playtimes
Supporting transition from Reception to Year 1 or transition into high school
One workshop from £255, additional workshops POA (Price on application).
Includes a planning meeting to discuss the areas of focus for your school; adapting the presentation, resources and handouts with school branding and focus area; evaluation report including attendance and workshop impact for evidence.
Our workshops promote the importance of family-school partnership and celebrate the role of parents in encouraging and supporting their children to enjoy learning. Each workshop includes interactive elements and information sharing. We provide all resources for the session and work alongside the schools to promote the event. Schools can purchase a USB with the resources to repeat sessions.
We offer longer programmes for parents such as a Reading Café or Stay, Play and Learn Together. If you would like one of these packages then please select the bespoke 4 day consultancy support package.
Provider:
Ealing Learning Partnership, School partnerships and enrichment team
Additional contact information
For more information about this package please contact Sarah Thompson, School Partnerships and Enrichment Team E. sthompson@ealing.gov.uk T. 020 8825 7372
Last updated: 16 Jan 2019