Marketing your school to parents 2019/20
This service is available for Academies and Maintained schools
Description:
A new package for schools who want to raise their profile and become the first choice school for parents of pupils starting in Reception. It includes a review of the school website from a parents' perspective, staff training around building positive relationships with parents and support with marketing the school.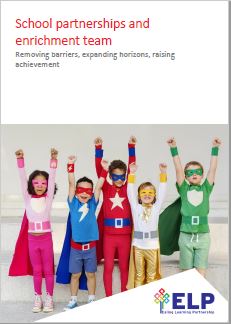 Benefits
Help to see your school through the eyes of potential new parents
Improved profile within the local parent community
Better relationships with new and existing parents.
The school partnerships and enrichment team has extensive experience of supporting schools to improve their engagement with parents.
Additional / buy back services
Marketing your school to parents £1380
Remember - if our support helps you to attract just one additional pupil to your school you will have more than covered your costs!
Summary of other packages available from the school partnership and enrichment team for ELP subscribers:
Fundraising support in schools £506
Bespoke fundraising and grant writing £1840
Harnessing parent power workshops, from £255
World of work £920
Office hours:
Monday to Friday, 9am to 5pm.
Planned improvements:
We have developed a number of new buy back packages aimed at supporting schools in areas that we know are a priority such as fundraising, marketing and engaging parents.
More detailed information:
The 'Marketing Your School to Parents' package has been developed to support schools who want to improve their profile with prospective new parents and become the first choice school for admission into Reception. Schools that buy into this package will receive:
A review of their website and processes from a prospective parents' viewpoint and suggestions for improvements
Two part training for front office staff or whole school staff around Building Positive Relationships with Parents
Support with developing a marketing plan to raise the profile of the school with prospective parents including using social media and other avenues.
Provider:
Ealing Learning Partnership, School partnerships and enrichment team
Last updated: 16 Jan 2019