World of work 2019/20
This service is available for Academies and Maintained schools
Description:
This two day consultancy package aims to support schools to raise pupils' awareness about future careers, make the link between learning and the world outside and prevent them from closing down options too early. Schools will choose from a menu of opportunities that will be tailored to their priorities.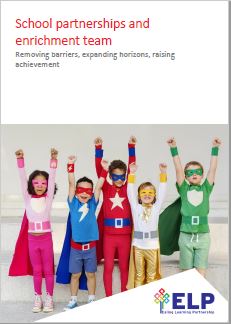 Benefits
Access to broader experiences and role models to support raising pupil aspirations
Engaging children from an early age with the wealth of careers and education available in the future
Early exposure to the different routes into the world of work
Opportunities to influence parent expectations about their children's future options
Increasing understanding about the relevance of Science, Technology, Engineering and Maths (STEM) subjects to future careers
'Children begin to eliminate their least favoured career options between the ages of nine and 13. By those ages, it is argued they will have abandoned the 'fantasy' careers associated with the very young and have started to become more aware of potential constraints on their occupational choice'
London Ambitions: Careers Curriculum A Resource Supporting Your Careers Strategy
Additional / buy back services
World of work package costs £920
Summary of packages available from the school partnership and enrichment team for ELP subscribers:
Fundraising support in schools £506
Bespoke fundraising and grant writing £1840
Harnessing parent power from £255
Marketing your school to parents £1380
Office hours:
Monday to Friday, 9am to 5pm.
Planned improvements:
The extended services team is now known as the school partnerships and enrichment team to better reflect the work that we do with schools.
We have developed a number of buy back packages aimed at supporting schools in areas that we know are a priority such as fundraising, marketing and engaging parents.
More detailed information:
The world of work package includes two days of support that is tailored to the requirements of your school. School leaders will be able to choose from the menu of services below to build a tailored programme for their pupils, parents and staff:
Support for school staff and governors to integrate learning about careers and the world of work across the primary school curriculum
Opportunities for parents to engage in the world of work programme with pupils
Hosting an employer engagement event to broaden pupils' awareness of careers
Access to CPD opportunities for teaching staff in specific subject areas, ie STEM, to introduce engaging and exciting techniques to inspire children
Activities, events and resources to challenge gender stereotypes to ensure children do not rule out career paths perceived not to fit with their gender
Activities or events to help pupils develop employability and life skills
Trips to further education colleges or university for pupils and parents.
Identifying and applying for funding to support raising aspirations themed events in school.
Provider:
School partnerships and enrichment team (formerly extended services team)
Last updated: 16 Jan 2019