Ealing mental health support team working with schools
16 Jul 2020
The Ealing Mental Health Support Team (MHST) are a new team of wellbeing practitioners. They provide wellbeing support and early intervention for pupils with anxiety, low mood, or behavioural difficulties.
They are currently working with 24 partner schools in Ealing, but are hoping to expand their service in the near future.
Return to working in schools survey
The MHST are also planning their return to working in schools, and if you can, please take five minutes to complete this short survey to help them get ready for this transition:
https://www.surveymonkey.co.uk/r/WLTRecovery
Further information
Download this flyer to find out more about Ealing MHST and share it with your staff.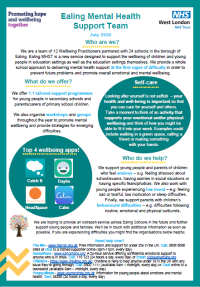 Last updated: 21 Jul 2020