Ealing Learning Partnership

What is ELP?
ELP is a partnership between schools and the council to promote educational excellence and wellbeing for all learners through collaboration and innovation.
ELP committees action plans
Read the individual committees action plans (ELP schools only)
Read about the progress and impact of ELP in relation to its key aims and priorities over the academic years in the ELP evaluation reports.
ELP aim, goals and activities 2021 - 2023
Every Ealing pupil is supported to achieve the best possible outcomes and pathways to adulthood
A community of schools take shared responsibility for their own development and success and for the success of their colleagues
Trust is high in a supportive yet highly challenging partnership
The partnership is financially sustainable: all resources are used in the interests of pupils.
ELP goals 2021 - 2023 (pdf)
ELP achievements and plans
ELP news
92% of schools have signed up to the ELP offer 2021-23. Download a copy of the ELP offer 2021-23. Here is a list of ELP member schools (login required).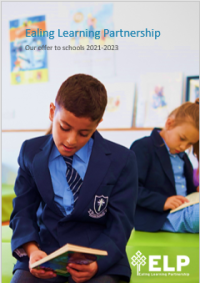 ELP 2019-21
For the 2019/2020 school year, nearly 95% (88 out of 93) schools signed-up to the partnership for a two-year commitment.
Download a copy of the ELP offer to schools 2019-21
View the Ealing Learning Partnership video filmed in 2020.
Choose from the following
Career development for teachers
Indicative CPD programmes, National Professional Qualifications (NPQ), Early Career Teacher (ECT) induction and teacher standards.
Career development for support staff
Indicative CPD programme for administrators, learning and pastoral support staff.
Gatekeeping news
Weekly newsletter for early years, Primary, special and high schools and how to submit news.
Health improvement in schools
Ealing healthy schools programme, the four themes of healthy schools.
School effectiveness impact evaluation
End of year impact evaluation.
School governance
Information to support our hardworking and dedicated school governors and clerks.
Schools partnership and enrichment
Family school partnership awards (FSPA), Aspire, Children's university.
School improvement and leadership
Headteacher and leadership handbook, briefings, qualifications, school to school and school improvement.
Services for schools (S4S)
Information on the 2020/21 traded services, the order form for annual buy back services and timeline.
Strategies and plans
Ealing school effectiveness strategy 2015-18 and supporting strategies and plans.
Teaching and learning
Curriculum, qualifications, raising of the participation age, special educational needs, equality and achievement and transition to high schools.
Last updated: 03 Dec 2021