Directors' reports
The directors' reports detail current local and national educational developments, including items which may require governor action.
Our new style Directors' Report will be emailed to all governors and clerks and can also be found here. We hope you enjoy reading this edition of the Directors' report, the new style consists of a series of links to EGFL pages and is not available in a downloadable format.
If you have any questions, feedback or suggestions for future editions please contact us at governors@ealing.gov.uk If you no longer wish to receive the directors' report you can use the unsubscribe button at the bottom of this email.
Select image to view and download the Directors' report April 2020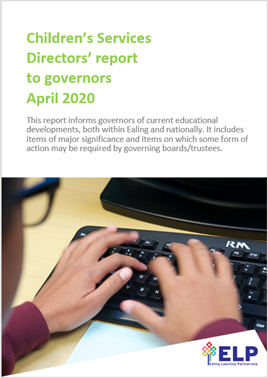 Directors' reports 2020
Directors' reports 2019
School governance news 2019
Last updated: 28 Apr 2020