Health improvement in schools
Health improvement team's buy back video: Find out about our six packages available to Ealing schools in 6 short minutes.
Monthly newsletter
Sign up to our monthly enewsletter
Health improvement service 2022/23
Select the image to view the health improvement service brochure: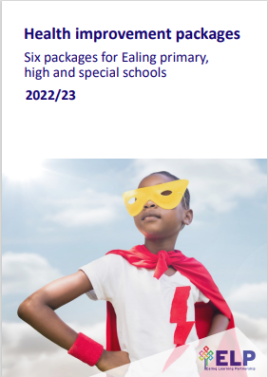 Health improvement service 2021/22
Watch the video about the health improvement packages on offer:
Knowledge Hub: Health and wellbeing resource sharing platform for schools
The health improvement team
Who are we?
We are a trusted and qualified team of experts, providing support and training in safeguarding prevention, mental health and emotional wellbeing, nutrition and exercise, relationships and sex education (RSE), and PSHE to help improve your pupils' health and achievement.
We create, develop and co-ordinate a wide range of programmes and trainings that you can adopt and implement to help you improve the health and wellbeing of your pupils.
What do we do?
All Ealing schools get a free health in school visit. Most schools also buy back the awards and training package, 4 Day bespoke package or one of our specialist packages. Schools that buy back any of our packages get our conferences, PSHE and mental health networks, newsletters and HSL award support for free.
Healthy Schools Awards and Training package: Includes six practical workshops to help you achieve the HSL awards, access to the Ealing Healthy Schools partnership, a celebration event, plus a choice from over 30 training workshops
4-day bespoke package: Provides four days of comprehensive bespoke work, pre- and post-surveys to measure impact, an impact report and continuous phone and email support
Specialist packages: Mental health, PSHE, RSE, Reducing obesity, includes pre- and post-surveys to measure impact, pupil assembly, parent workshop, staff INSET, policy review, central trainings in the health area, and up to four targeted activities in the health area
Visit the health improvement service page for all details and costs.
Contact us
Karen Gibson
Health improvement manager and safeguarding
kgibson@ealing.gov.uk ; 020 8825 7707 or 07961 207 284
Nicole McGregor
Senior health improvement advisor – nutrition and exercise
mcgregorn@ealing.gov.uk ; 020 8825 5484 or 07925 344 704
Emily Rayfield
Health improvement officer
Mental health and emotional wellbeing
RayfieldE@ealing.gov.uk ; 020 8825 6254
Faye Jones
Health improvement officer
Relationships and sex education (RSE) and personal, social, health and economics (PSHE)
JonesF@ealing.gov.uk ; 020 8825 6076
Choose from the following
Healthy schools London awards
HIT resources and support
Stepping up to health newsletter
HIT training resources
HIT toolkits
PSHE scheme of work - Primary
Sugart smart schools
Health related data
Last updated: 22 Feb 2022