Services for schools (S4S)
School nominated buyers can access their services for schools order form 2019/20:
Read the buyer's guide
Log in to EGfL
Select the 'school annual buy back' tab to make your decisions.
The form shows the prices for the services with an annual buy back deadline.
It also shows your school's commitments including your ELP subscription.
The deadline to submit the order form is Thursday, 28 February.
Download the services for schools brochure 2019/20 to see all services provided by Ealing: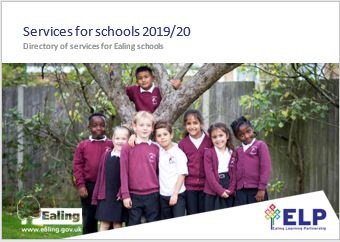 View your school order history
Headteachers and nominated buyers can access their schools' order history at any time. Just log in at www.egfl.org.uk/order-history and select the relevant order history year.
ELP subscription prices
Schools that have subscribed to the ELP will find their price confirmed on the order form under 'Ealing Learning Partnership 2019/20'.
All service information on EGfL
All services for 2018/19 are available to view on the right hand side of the five main areas:
Anyone with an EGfL account can login to view specific information about all services, offers and pricing.
Purchasing options
Our services will continue to meet the real needs of Ealing schools, are of high quality and, we believe, offer excellent value for money.
Services that continue to be free of charge:

No additional cost to schools. Services that are available for ELP subscribers:

Ealing Learning Partnership subsidised. There is a range of ways for schools to purchase additional services:

Pay as you go through service contacts

Other arrangement through service contacts

Annual buyback
Service detail queries
If you have any questions about a specific service, please contact the service manager directly. Their details will be available on their dedicated service page.
S4S support service
If you have any questions about your orders contact us by:
Phone: 020 8825 8268 Monday to Friday, 9am to 4pm
Last updated: 07 Feb 2019