Healthy schools Ealing points scheme
Healthy schools Ealing points scheme (pdf)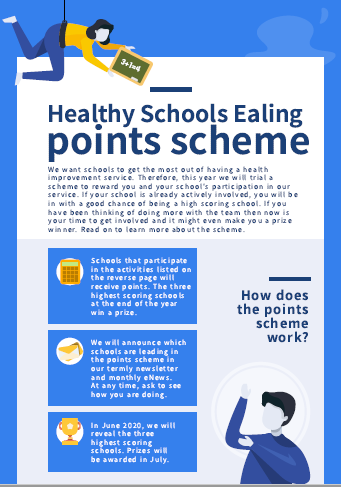 We want schools to get the most out of having a health improvement service. This year we are excited to announce that we will trial a scheme to reward you and your school's participation in our service. If your school is already actively involved in our service, you will be in with a chance of being a high scoring school. If your school is not actively involved or if you have been thinking of doing more with the health improvement team then now is a good time and it might even make you a prize winner.
How does the points scheme work?
When you do any of the activities listed below, the health improvement team will add the corresponding number of points to your school.
We will regularly announce the highest scoring schools in our termly newsletter and monthly eNews.
In June 2020, we will reveal the three highest scoring schools. These schools will receive their prize in July.
How do I earn points?
Schools will be rewarded with between 1 and 5 points by doing a range of healthy schools initiatives. Here is how schools can earn the following number of points:
1 point:
Open our monthly eNews
Complete any health improvement survey
Participate in the 2019 HRBS.
2 points:
Attend your school's health in school visit. Bonus 2 points if headteacher attends this meeting.
Attend the PSHE or mental health network.
Attend any of our training workshops.
Attend a learning walk.
Write an article for our stepping up tto health newsletter.
3 points:
Attend our annual health improvement conference or FGM conference.
Host one of our networks or training workshops in your school.
Achieve a Health schools London award.
4 points:
Present at our annual health improvement conference.
Present at our healthy schools awards and training (HAT) celebration event.
5 Points:
Become a sugar smart school.
-2 Points:
Not attending a training that you registered for (cancelling on Ealing CPD online 4 days before the training incurs no penalty).
What can I win?
The highest scoring schools will receive a framed certificate of achievement. In addition, your schools will receive the following prize:
1st place: HAT membership for 2020/21 or £500 for your PSHE budget
2nd place: £250 for your PSHE budget
3rd place: £100 for your PSHE budget.
For more information about the Healthy schools Ealing points scheme, email Nicole on McGregorN@ealing.gov.uk.
Last updated: 18 Sep 2019