Career and professional development
The school effectiveness service has been working closely with Ealing's teaching school alliances to put together an excellent programme of training and professional development for all school staff and governors for 2019-20.
Download the ELP professional development and training brochure for primary and special schools April -July 2019 by SLA order: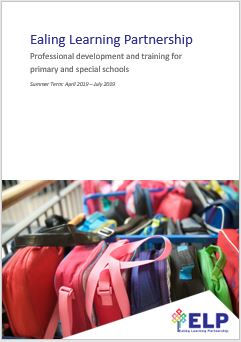 You can view more information and book online at Ealing CPD online
The programme is subject to change and additions during the year so always visit www.ealingcpd.org.uk for the most up to date information
The programme will be available from the LA, schools, training school alliances and external providers.
We are proud to be able to make such an exciting and enviable opportunity available to our schools to enhance the chances of all our young people.
Choose from the following
Career development for support staff
Support in identifying appropriate training and qualifications for support staff.
Headteacher standards
National standards of excellence for headteachers.
Teacher standards
Professional standards for headteachers and teachers.
HLTA standards
Profesional standards for higher level teaching assistants.
TA standards
Profesional standards for teaching assistants.
Leadership development and succession planning
Information and resources on national and local leadership development and in school succession planning/talent management.
NQT induction
Guidance for schools on Ealing NQT manager.
Directory of school improvement provision across Ealing primary schools
Last updated: 18 Apr 2019