School partnerships and enrichment
Removing barriers, expanding horizons, raising achievement.
The key principles focuses on three main priorities:
Supporting parents and carers to enhance their skills and confidence so that they can better support their child's learning
Enriching children and young people's lives through access to wider learning and opportunities outside of school
Engaging partners and the community in schools to improve access to services and child and family wellbeing and achievement.
Select image below and find out about our school partnership and enrichment team offer: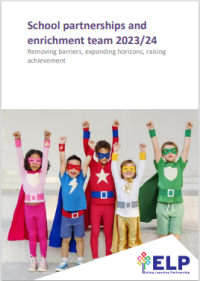 Choose from the following
School partnership and enrichment team contact
Contact information.
School partnership and enrichment service offer
Three main priorities of our service and the different services we offer.
FSPA (Family School Partnership Award)
About the award, what schools who sign up receive and feedback from schools who have completed the award.
Aspire
Raising aspirations event and Aspire toolkit.
Last updated: 06 Mar 2023