Race equality guidance
Ealing's race equality guidance for educational settings, with an emphasis on the achievement of Black Caribbean pupils, aims to provide points for consideration for all colleagues working in educational settings and schools. It is a springboard for developing and implementing anti-racist education and leadership in Ealing.
The premise for the spotlight and sharply focused approach on Black Caribbean achievement is two-fold.
Firstly, we want to tackle the pervasive and long-term underachievement of Black Caribbean learners in Ealing and
secondly, research tells us that 'doing it well and getting it right for one group' can lead to the subsequent application of effective approaches, and to the positive outcomes, for others.
This guidance has been produced against the backdrop of Ealing Council's explicitly communicated commitment to race equity, following George Floyd's murder and the subsequent Black Lives Matter protests globally in summer 2020.
The Ealing Race Equality Commission was established by Ealing Council in 2020 and chaired by Lord Simon Woolley. It was tasked with listening to people who live and work in the borough about their experiences of racism and putting forward proposals to address inequality.
The Ealing Race Equality Commission report was published in January 2022 and includes recommendations in a range of areas including education, health, participation and democracy, policing, income and employment, housing, and rough sleeping.
Ealing's race equality guidance is intended to support positive action to address the seven education priorities identified by the commission. It will evolve over time as our work develops in this area.
We hope that the toolkit is helpful in strengthening anti-racist education and leadership.
Julie Lewis
Director Learning, Standards and School Partnerships
How to use this guidance
Here is Ealing's race equality guidance for educational settings: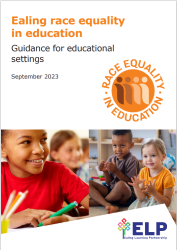 The guidance highlights key areas for leaders to consider in their journey towards providing anti-racist education. Achieving anti-racist education and leadership is a complex challenge that requires a multi-faceted approach. It involves the careful consideration of many different aspects of educational provision, and it includes pupils, parents, staff, governors and the wider community. During the process, leaders are encouraged to consider the key question:
"How do we transform our policies and practice to lead to sustained positive change and outcomes?"
The Ealing Race Equality Commission identified seven priority areas for immediate action. These areas are included within the toolkit, along with additional areas for consideration by education leaders.
Each section includes useful information, questions for consideration and where appropriate, signposting to further reading, resources and information.
There is no prescribed way to take forward anti-racist work within your school or setting as each is unique and will have different starting points and priorities. However, learning from the No Learner Left Behind Black Caribbean Achievement project suggests that providing whole staff training at the beginning of the process enables a shared understanding of the issues and challenges to be addressed and sets the scene for later discussions.
An early review of key data by ethnicity group allows leaders to identify any areas of disproportionality that will guide the focus in relation to future areas of work.
Ealing Learning Partnership is committed to proactively leading and supporting member schools on this journey. The section on ELP Support for Schools sets out the initial support that is available to schools through the Partnership and this will grow over time.
Terminology
This guidance places an emphasis on the achievement of Black Caribbean pupils. This terminology is used as it aligns with the School Census ethnicity terminology. However, it is acknowledged that many Black people of Caribbean heritage may identify themselves as African / African-Caribbean / Black / Black British, as opposed to the term Black Caribbean.
Last updated: 07 Dec 2023