Three days to go for ELP 2019/21 subscription deadline
08 Jan 2019
Headteachers and nominated buyers can see their Ealing Learning Parnership (ELP) indicative subscription price* on their order form.
Order forms should be submitted by 11 January 2019.
To see the indicative price and submit your order form:
Log in to EGfL at www.egfl.org.uk/user
Go to the schools annual buyback tab
Select required or not required
Then select submit.
The *school subscription model (page 15) and the core entitlement and member benefits are listed in the ELP offer to schools brochure 2019/21. The offer, developed with the ELP board, sets out what we want to achieve and the contribution needed from schools to make this happen. Download the offer here: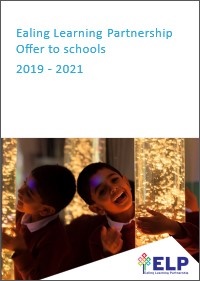 Two-year commitment
In November 2018 Ealing Council has confirmed its decision to extend the current funding arrangement for the ELP for another two years 2019-21. This, alongside a further commitment from schools, will enable us to deliver on our ambitions.
By subscribing to ELP in January 2019 schools are committing to a two-year partnership 2019-21. Each year will be invoiced separately as part of the services for schools annual order form and invoice. See ELP terms and conditions.
ELP updates
Since September, a number of new and exciting collaborative developments have been launched and many of you have committed your energy and time to new leadership roles and committees working on behalf of the partnership.
The six ELP committees have produced clear plans for achieving our ambitions for children and young people.
These plans as well as priorities, progress updates, resources and more are published on the dedicated ELP website egfl.org.uk/elp
Services for schools 2019/12
The services for schools 2019/20 order form for traded services with an annual buy back deadline will launch on 23 January 2019 and close on 28 February 2019. More information will be published nearer the 23 January launch day www.egfl.org.uk/s4s
Contacts
Last updated: 09 Jan 2019