If you are a service manager or editor, please review your 2022/23 service information on EGfL in preparation for schools placing their service orders.
To do this, log in to EGfL and go to the My services tab to review your 2022/23 service information. Please familiarise yourself with the service editors guide (see download section below).
Don't forget to change the status of your page to save and send for approval: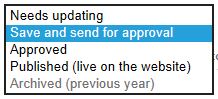 If your service offer is changing, please contact us now to discuss this further.
Important dates
3 December deadline to review and submit your service information
24 February services for schools order form opens for schools to place orders
31 March services for schools order form closes.
If you provide specific prices (recharges) to individual schools for your service you will get a separate email with further information about this.
General terms and conditions
Please be aware that in the absence of your own services' terms and conditions these general terms and conditions apply.
What's new
Service managers/ editors will receive an automated review email
Previous order history now available to view under the My services tab.
Downloads