What is ELP?
ELP is a partnership between schools and the council to promote educational excellence and wellbeing for all learners through collaboration and innovation.
ELP aim, goals and activities 2021 - 2023
Every Ealing pupil is supported to achieve the best possible outcomes and pathways to adulthood
A community of schools take shared responsibility for their own development and success and for the success of their colleagues
Trust is high in a supportive yet highly challenging partnership
The partnership is financially sustainable: all resources are used in the interests of pupils.
ELP goals 2021 - 2023 (pdf)
ELP achievements and plans
ELP news
92% of schools have signed up to the ELP offer 2021-23. Download a copy of the ELP offer 2021-23. Here is a list of ELP member schools (login required).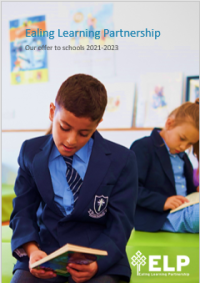 ELP 2019-21
For the 2019/2020 school year, nearly 95% (88 out of 93) schools signed-up to the partnership for a two-year commitment.
Download a copy of the ELP offer to schools 2019-21
View the Ealing Learning Partnership video filmed in 2020.
Last updated: 18 Oct 2021