Ealing Learning Partnership (ELP) 2019/21
This service is available for Maintained schools, Other schools and settings and Academies
Description:

A partnership between schools and the council to promote educational excellence and wellbeing for all learners through collaboration and innovation.
See www.egfl.org.uk/elp for priorities, action plans, progress updates, resources and more.
The council agreed to a two-year funding agreement and schools were invited to commit to a two-year funding model.
Benefits
The core entitlement and member benefits are listed in the ELP offer to schools brochure 2019/21: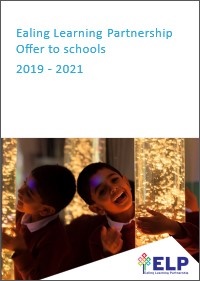 In brief the partnership:
Gives schools access to an additional £525k Ealing Council funding - in addition to £183k allocation from the DfE to deliver its basic school improvement statutory duties - to support the aims and comittments of the partnership as agreed with schools through the partnership board and provide a rich core entitlement of support services
Is a transparent, accountable, scaleable and jointly led model which will provide what is of most value to Ealing schools
Develops the conditions and structures for greater school-led transformation via rapid support and professional development
Strengthens the commitment of schools to each other's growth and to the partnership's aims
Provides clear and sustainable opportunities for headteachers to work beyond their own schools and influence area-wide improvement so that no learner is left behind
Enables quality assured personalised support to meet school needs
Provides strong infrastructure to facilitate both school autonomy and collaboration without isolation
Enables better use of centralised resources for higher impact and excellent value for money services
Enables reduction of overall costs for schools and the LA year on year
Enables schools to influence and shape wider services for children and young people.
Additional / buy back services
With 95% of Ealing schools working together (2019-20 subscription figures) with passion, commitment and shared ambitions we can create the very best outcomes and futures for all children and young people in the borough.
The two-year council's contribution commitment and school subscription will secure the delivery of the ELP core service set out in the 2019-21 ELP offer to schools brochure. This also enables us to offer schools the additional traded services to meet more bespoke needs and requirements.
These services are offered at discounted price for ELP members and an indicative summary list is included in the offer to schools brochure 2019/21.
The full details of these services will be offered via the main services for schools online directory and order form, which will be available February 2020 on www.egfl.org.uk/s4s
Office hours:
Core office hours are Monday to Friday, 9am - 5pm - service delivery hours are flexible according to need and by agreement.
Planned improvements:
Ealing Learning Partnership will continue to evolve and grow alongside the commitment of its members and strong leadership from the board and will work across boundaries to the benefit of all schools and young people in Ealing.
Service directors:
Julie Lewis
More detailed information:
Ealing services for schools are supported by our general terms. Here are specific terms and conditions for the Ealing Learning Partnership 2019/21:
By subscribing to ELP in January 2019 schools have committed to a two-year partnership 2019-21. Each year will be invoiced separately as part of the services for schools annual order form and invoice.
Indicative prices are set out on page 15 of the brochure
There will be no option to cancel subscription during the two-year period as the partnership infrastructure and activities are planned and resourced on the basis of the total number of schools subscribing in January 2019.
Additional contact information
Last updated: 06 Jul 2020