Fundraising support in schools 2019/20
This service is available for Academies and Maintained schools
Description:
A choice of two packages to suit the needs of schools wanting to increase their income from external grants. Delivered by the School Partnerships and Enrichment Team who have had significant success in securing money for schools - more than £900,000 raised for Ealing schools since 2011!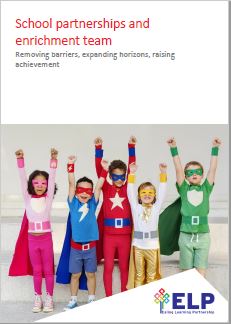 Benefits
Identify sources of external grants and develop projects to meet the priorities of funders.
Support school leaders to develop their bid writing skills.
Increase your success in securing external grant funding.
Raise extra cash for your school.
"The team provided us with practical ideas and information that formed the bedrock of our fundraising activities. We now have the tools and confidence to ensure that we can identify and pursue the right fundraising opportunities for our school"
Finance Officer, an Ealing Primary School
Additional / buy back services
Bespoke fundraising and grant writing 4 days £1840
Fundraising support subscription package £506
Summary of other packages available from the school partnership and enrichment team for ELP subscribers:
Harnessing parent power from £255
Marketing your school to parents £1380
World of work £920
Office hours:
Monday to Friday, 9am to 5pm.
Planned improvements:
We have developed a number of new buy back packages aimed at supporting schools in areas that we know are a priority such as fundraising, marketing and engaging parents.
More detailed information:
The School Partnerships and Enrichment Team have many years of experience in training and supporting schools in this area so whether you want to build the capacity of your own staff or would prefer us to come in and take a lead on fundraising bids there is a package for you!
Bespoke fundraising and grant writing 4 days £1840
This package is for you if you are low on time and want hands on support to develop and prioritise projects, identify funders and make grant applications on your behalf.
An Ealing school who has bought this support from the team for the 3 years has invested £3,500 and received over £79K in external funding!
Fundraising support subscription package £506 per school
Develop the capacity of your staff to write their own funding bids. Includes one day training course for up to two staff members; a comprehensive fundraising resources pack; network and cluster working opportunities; five drop in support sessions; five funding newsletters and year round phone and email support
It is expected that schools who utilise the funding opportunities highlighted in the newsletter and take advantage of the drop in support sessions can expect to more than recoup the cost of this package over the year!
Provider:
School Partnerships and Enrichment Team (formerly Extended Services team)
Last updated: 16 Jan 2019