HRSSC pay as you go services 2023/24
This service is available for Academies, Maintained schools and Other schools and settings
Description:
Services offered in addition include recruitment, resourcing, DBS checks, payment facilities and redundancy and pension benefits estimates. Select brochure for more information: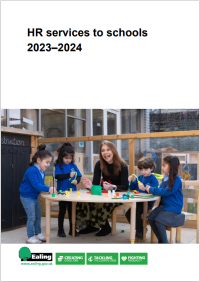 Benefits
A variety of additional services procured on behalf of Ealing Council and its schools at competitive prices.
Office hours:
Monday to Friday, 9am to 5pm.
Planned improvements:
Delivering further enhancements to iTrent by automating services, resulting in a reduction in administration input times, as well as new functionality to support you in your role.
Service directors:
Liz Chiles
More detailed information:
Additional services:
Online disclosure and barring services (DBS) checks and update
Certificate of sponsorship
Advertising Ealing Council's Website
Enhanced vetting on new appointments
Payslips
Emergency payment facility
HMRC compliance advice service
Related content:
Provider:
HR & OD, Strategy and Change
Additional contact information
HRSSC 020 8825 9000, option 3
Last updated: 21 Feb 2023