HRSSC payroll 2023/24
This service is available for Academies, Maintained schools and Other schools and settings
Description:
The payroll service offers a highly competitive and efficient solution to your payroll requirements. Enjoy accurate, online and statutory compliant management of your payroll, supported by dedicated, experienced, knowledgeable staff who will provide professional advice and assistance.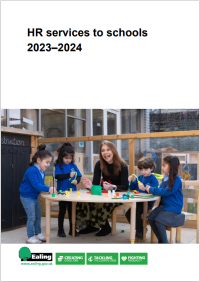 Benefits
Inclusive of, but not limited to:
HMRC compliant with all leglisation eg real time information
24/7 online access to view reports and make changes to employee payroll in real time
Full reconciliation and payment of statutory deductions includes year end HMRC with set timescales
Accomodate new teachers pay reform
Implement pay awards in accordance with agreed pay scales and school instructions
Process sickness and maternity pay
Dedicated pensions coordinator
Year end documents ie p60, p35, p11d
Payroll set-up for schools converting to academy status, price on application (POA)
Office hours:
Monday to Friday, 8.45am to 5pm.
Planned improvements:
Ongoing process of continued service improvement. This includes regular system upgrades to improve performance.
Service directors:
Liz Chiles
More detailed information:
Related content:
Provider:
HR & OD, Strategy and Change
Contact:
Recruitment and HR administration HRSSC, HR shared service centre (HRSSC): hrsscops@ealing.gov.uk

020 8825 9000
Additional contact information
Last updated: 21 Feb 2023