Occupational health service 2023/24
This service is available for Academies, Maintained schools and Other schools and settings
Description:
A team of highly qualified, experienced occupational health practitioners with medical secretarial support. We provide an effective and comprehensive range of occupational health services to reduce absence and promote and support an early return to work, enhancing performance and productivity and preventing litigation where necessary.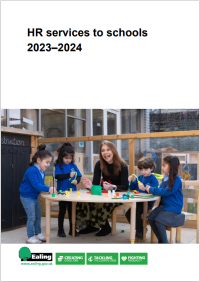 Benefits
Adjusted headcount for charging purposes – clerk to governors and exam invigilators are not charged
Unlimited access to occupational health nurses
Unlimited access to occupational health physician
Occupational health help line and dedicated email with 24-48 hour response time
Working closely alongside Ealing Council's other HR services to facilitate full case management, including Health and Safety
Written guidance notes on all health related policies and processes
Absence management reporting where Ealing Council payroll service is purchased
Access to consultant physiotherapy advice and guidance via OHU clinician where appropriate
Inclusive of funding for ill health retirement applications for current staff, including the external assessment and provision of certification (one application per employee) where medical evidence supports this.
We provide services to protect health at work, assess and advise on fitness for work and to ensure health issues are effectively managed.
All inclusive service. Unlimited access. Fully qualified, experienced specialist staff. Flexibility to meet needs of the school as required. Working in collaboration with schools HR adviser and schools health and safety service. Includes cost of GP / consultants reports, when required, up to £80 per report.
Office hours:
Monday to Friday, 9am to 5pm
Planned improvements:
Ongoing process of continued service improvement.
Service directors:
Andrew Scully
Related content:
Provider:
HR shared service centre, corporate resources.
Additional contact information
HRSSC 020 8825 9000, option 3, option 3.
Last updated: 21 Feb 2023