School improvement bespoke support for high schools 2021/22
This service is available for Academies, Maintained schools and Other schools and settings
Description:
School improvement support for high schools. Logged in users can select image to view brochure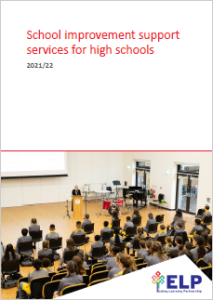 Benefits
The secondary school improvement service:
Supports schools in responding to local and national policy developments
Offers a range of high quality opportunities to work in partnership with schools to improve teaching and learning, build capacity at all levels and to close achievement gaps.
Additional / buy back services
Link partner service including headteacher appraisal or equivalent support.
Collaborative school improvement services including:
Ealing Teaching School Alliance co-ordination (ITT, CPD and school to school support)
Senior leadership networks
Subject leader networks and subject specific CPD/ workshops.
Data and communication
High quality data support for the partnership and your school
Ealing Grid for Learning.
Bespoke days: Purchase as required.
Service directors:
Julie Lewis
More detailed information:
School improvement bespoke high school support 2021/22
Related content:
Provider:
Ealing Learning Partnership, children and adults' services.
Last updated: 22 Feb 2021