School partnerships and enrichment 2019/20
This service is available for Academies and Maintained schools
Description:
The School Partnerships and Enrichment Team (formerly extended services) has extensive experience of working with school leaders to tackle barriers to learning faced by pupils outside the classroom. Select image to view the range of packages available including our Bespoke Consultancy package and an Enrichment and Partnership Communications package: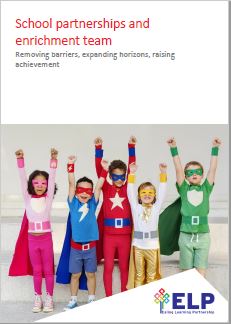 Benefits
A highly skilled and experienced team.
Extensive experience of working in partnership with Ealing schools.
Tried and tested training and resources developed in collaboration with Ealing schools.
Additional / buy back services
Summary of packages available from the school partnerships and enrichment team for ELP subscribers:
Bespoke fundraising and grant writing £1840
Bespoke consultancy package £1840
Four days of bespoke consultancy support delivered in school and tailored to the exact requirements of your school. Areas of work that we are able to cover include:
Engaging parents in their child's learning and school life
Enrichment activities for pupils and families
Linking learning to future education and career choices
Bespoke project development to tackle barriers to learning
Fundraising advice and bid writing
A tailored programme of support will be designed following an initial planning meeting with a senior leader at the school.
Communications package £102
This is a package that has been developed to ensure that schools are still able to access information about enrichment opportunities from external providers and the 'Let's Get Out and About' family activities newsletter. The newsletter is produced before each school holiday and includes a range of free and subsidised activities for families to enjoy during the holidays. In addition, schools will receive regular bulletins with information and opportunities that the team has reviewed on behalf of schools.
Office hours:
Monday to Friday, 9am to 5pm.
Planned improvements:
The Extended Services team is now known as the School Partnerships and Enrichment Team to better reflect the work that we do with schools. We have a number of buy back packages aimed at supporting schools in areas that we know are a priority such as fundraising, marketing and engaging parents.
Service directors:
Julie Lewis
Related content:
Provider:
School Partnerships and Enrichment Team (formerly extended services)
Last updated: 17 Sep 2019