School workforce development support 2020/21
This service is available for Academies, Maintained schools and Other schools and settings
Description:
We have considerable professional expertise in supporting Ealing Schools and can source specialised support as needed. We aim to provide you with effective solutions that will save you time and money. We provide consistent quality assured services to ensure the best possible outcomes for your school challenges and Ofsted requirements.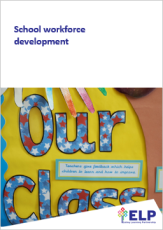 Benefits
Package 1 Workforce network group benefits for school business managers, site managers and caretakers:
Networks led by experienced coordinator
A dedicated go to person based within the LA to organise meetings
Different networks aimed at key staff groups
Raise awareness of key issues for schools
Support schools to work collaboratively
Share best practice
Mechanism for debate and discussion on issues and best suppliers / securing deals
Help school staff develop new ways of getting to know others and work successfully together
Provide opportunities to develop further school to school support
Source and signpost relevant accredited and non training to support schools
Secure group discounts
Excellent for support if you are new to role or new to Ealing.
Package 2 Bespoke workforce support:
• Provide you with effective solutions that will save you time and money
• Provide a consistent quality assured service to ensure the best possible outcomes to meet your school challenges and Ofsted requirements
• Well established service provision supporting Ealing schools
• Wealth of professional knowledge and expertise in supporting Ealing and other borough schools
• Ability to source further specialised support and training
• Offer a competitively priced service
• Monitor the support you receive so we can check for quality, consistency and ensure positive outcomes.
Additional / buy back services
You can choose to purchase on an annual buy back basis either two days or three days support with additional days available on a pay as you go basis. Priority will be given to schools that have opted for an annual buy back. If capacity allows pay as you go only option will be available to schools.
See further details section for information on cost and support that is available.
Office hours:
Monday to Friday, 9am to 5pm.
Service directors:
Julie Lewis
Related content:
Provider:
Ealing Learning Partnership, children and adults' services.
Last updated: 12 Mar 2020