Educational and recreational visits
'There and back again' - the educational and recreational visits handbook (pdf)
Ealing Council services guidance for school visits.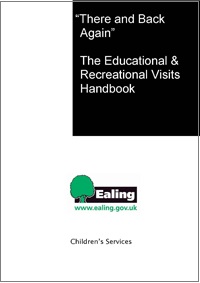 Children's services have commissioned Widehorizons Outdoor Education Trust as the outdoor education advisors to Ealing schools.
Further guidance on educational and recreational school visits can be found from the Outdoor Education Advisers' Panel (OEAP) which is made up of expert practitioners from local. The OEAP's website also provides schools with details of local authority outdoor education advisers.
The OEAP endorses the Learning Outside the Classroom (LOtC) quality badge and requests to local authority members to recommend the use of LOtC quality badge providers to its schools, other establishments and groups.
The LOtC quality badge provides for the first time a national accreditation combining the essential elements of provision - learning and safety - into one easily recognisable and trusted quality badge for all types of LOtC provider organisations.
The OEAP further requests to its LA members not to require information from LOtC badged providers that duplicates details provided by the quality badge criteria.
The LOtC quality badge further reduces the red tape associated with learning outside the classroom, making it easier for teachers and other education providers to incorporate LOtC into the everyday curriculum. This increases the likelihood of children having the opportunity to have wider educational experiences which directly benefit their educational attainment and social and emotional development.
Specifically and in relation to Ealing schools the use of LOtC quality badge providers will mean that schools do not have to seek assurances about providers risk assessments to judge whether necessary and appropriate health and safety management systems are in place. Schools will simply need to check, via the LOtC website, that a provider holds an in-date quality badge and ensure the management of significant risks under the schools control, such as transport arrangements to and from the venue.
Generic risk assessments
All documents are in word format and open in a new window.
Advice on driving school minibuses (GOV.UK)
This is non-statutory advice jointly produced by the Department for Education (DfE), the Department for Transport (DfT) and the Association of Chief Police Officers (ACPO) on driving licence entitlement when driving a school minibus
Health and safety guidance in horse riding establishments (CIEH website)
Chartered Institute of Environmental Health (CIEH) December 2015.
Preventing or controlling ill health from animal contact at visitor attractions - Industry code of practice (HSE website)
Every year millions of people visit premises where members of the public, particularly children, are encouraged to view or touch animals.
The purpose of this code of practice is to help ensure visitor health and safety by providing sensible, practical and proportionate guidance on preventing or controlling ill health at visitor attractions.
This code of practice has been produced by the industry and is aimed at the owners, operators and managers of such visitor premises.
It provides guidance, including pictures and real-life case studies, of practical measures that you can apply at your premises to help you comply with the law and keep visitors safe.
The examples are from businesses, ranging from conventional farms that open to the public for one day a year to attractions that may cater for hundreds of thousands of visitors each year.
Contacts
Raj Chowdhury
Health and safety adviser schools
Email: chowdhuryr@ealing.gov.uk
Tel: 020 8825 7287 / Mob: 07568 130 165
Last updated: 24 Jan 2018