School vacancies
The Ealing school vacancies website was developed by members of the Ealing Learning Partnership's (ELP) recruitment and retention committee together with Ealing Council.
For the best browsing experience we recommend you use any browser, apart from Internet Explorer.
Add a school vacancy
Schools can upload their own vacancies through their nominated person who has a user account. Once uploaded the vacancy will be published by our HR team at Ealing Council. Watch the video on Ealing school vacancies guide for nominated users.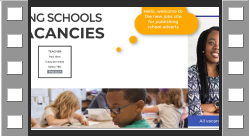 Nominated school user
Nominated school users will be given their username and password to access the school vacancies website. Nominated users can log in here.
See download section below for the following user guides:
Two factor authentication (2FA) account set up
Guide for nominated school users
Last updated: 12 Nov 2020