ELP leadership

What is ELP?
ELP is a partnership between schools and the council to promote educational excellence and wellbeing for all learners through collaboration and innovation.
ELP progress
ELP's vision is that:
Every Ealing pupil is supported to achieve the best possible outcomes and pathways to adulthood
A community of schools take shared responsibility for their own development and success and for the success of their colleagues
Trust is high in a supportive yet highly challenging partnership
The partnership is financially sustainable: all resources are used in the interests of pupils.
ELP is committed to:
Responding to the needs of individual schools and groups of schools so they can make the greatest difference to children and young people
Influencing and shaping the local authority's broader responsibilities for children and young people
Working together to ensure value for money across all services
Attracting, developing and retaining the very best workforce.
ELP 2019-21
For the 2019/2020 school year, nearly 95% (88 out of 93) schools have signed-up to the partnership for a two-year commitment.
The ELP offer to schools 2019-21 can be downloaded here: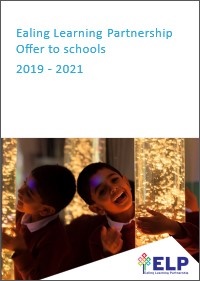 ELP overview
Further information, achievements and plans are available in these downloads and links
*login required
Last updated: 19 Nov 2019