ELP leadership

ELP commissions
The ELP board has agreed that £191,000 of core funding should be used to support the implementation of eight ELP commissions in 2019-20. The commissions support the aims of ELP to build the capacity and confidence of schools to lead on behalf of the partnership to meet its two key aims: No learner left behind - no school left behind.
Schools are now invited to review the outline plan for each commission and to express a direct interest in taking a lead role by the deadline of 16 May. See plans, information and how to submit on the page ELP commissions 2019-21.
ELP 2019-21
88 Ealing schools and settings have signed up to ELP 2019-21.
The ELP board met on Thursday, 17 January to review the subscription and agree key principles for resource allocation including the commissioning of school-led activity on behalf of the partnership.
The council's contribution and school subscription secures the delivery of the ELP core service set out in the 2019-21 ELP brochure. This also enables us to offer schools the additional traded services to meet more bespoke needs and requirements. ELP schools can purchase ELP traded services at a discounted price.
The ELP offer to schools 2019-21 can be downloaded here: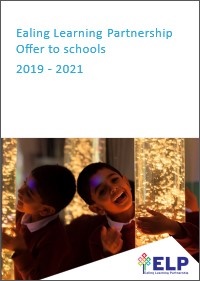 ELP overview
Last updated: 09 May 2019