Ealing Learning Partnership
Status bar showing percentage of schools committed to ELP to date Friday 15 December:

Ealing Learning Partnership subscription 2018/19
Headteachers and nominated buyers can submit their schools ELP 2018/19 subscription decision by Wednesday, 10 January 2018 through the online order form as follows:
Login to the EGfL
Select the grey 'School annual buy back' tab
Select 'required' or 'not required' radio button
Select the submit button at the bottom.
You will only be required to submit your decision to subscribe to the Ealing Learning Partnership 2018/19.
Following the closing date, all schools' decisions will be collated and there will be further communications to confirm the outcome and next steps as well as specific final subscription prices according to the models already described.
Who are we and what are we doing?
An elected group of headteachers have been working together with key LA officers to develop a new model of partnership working to secure more direct involvement of schools in shaping local ambitions for children and young people.
For more information download the Ealing Learning Partnership brochure: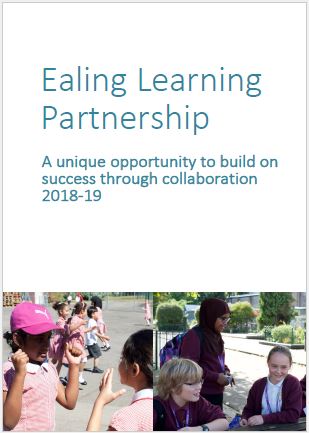 The ELP board (pdf) are happy to help with any of your concerns and queries to help you make this important decision.
You might find the following useful too:
ELP questions and answers (pdf) from the governors engagement and heads briefings in November 2017.
We urge you to consider carefully the great benefits of this valuable and one-time opportunity for Ealing schools which will grow and develop in the interest of the community and all young people in Ealing and to submit your commitment to the partnership on the order form as early as possible and at the latest by the 10 January deadline.
Last updated: 15 Dec 2017