SEN bulletin November
Message from Madhu
Welcome to Ealing to Simon Lynch, our therapeutic thinking Lead, and Adam Brazier, our access and inclusion lead. Simon has been out and about in Ealing schools already and you will be meeting Adam soon as well. I know you will want to join me in congratulating Fabiola Peacock who will be the acting head of SEND from January 2024.
Share your best practice
Please do send pictures, ideas, and success stories to the bulletin to share with colleagues. Email Sam on sendline@ealinggov.uk.
Taking place on Wednesday 22 November at 2pm.
Next session takes place Monday 4 December. Here is more information about SEN support from EPS
St Johns speech and language ARP professionals afternoon
Monday 4 December at 3pm.
For professionals working in and with nursery and primary schools -SENCOs, inclusion leaders, EYFS leaders, speech and language therapists and EHCCos. The purpose of the afternoon is to raise awareness and understanding of the children we support and how we support them. We will talk about
the identification and referral of children with significant SLCN
the entrance guidance for the children who could be considered for our ARP
provide tips and strategies to use back in your settings.
Please email emalcolm@st-johns.ealing.sch.uk or call the school to let us know if you plan to attend.
Running again Spring 2024!
A comprehensive training programme for teachers to understand the challenges presented by dyslexia type learning difficulties and to learn how to support children in KS2 and 3 through small group or quality first teaching approaches.
This includes the promotion of a variety of teaching schemes, practical resources and assistive technology as well as explanations of how to identify difficulties and differentiate classwork to support children who find learning to read and write a challenge. Complete the Dyslexia type difficulties outreach support booking form
This was excellent last year and is especially relevant for secondary inclusion leads. Link to tickets below.
IncludEd Conference 2024 Tickets, Sat 13 Jan 2024 at 9am | Eventbrite
A resource for families with barriers to school attendance. Not Fine in School - School Refusal, School Attendance
Team Teach
ELP are planning to offer Team Teach Training in the Spring term. A minimum number of 12 participants are needed to confirm a booking the trainer, so please get in touch with Sam if you are interested. Provisional date for Level 1 is 16 Jan 2024, £75 per participant. Email sendline@ealing.gov.uk.
Therapeutic Thinking resource of the month
Therapeutic Thinking is based on the idea that our actions result from feelings, which are a product of our experiences. Only by analysing behaviour can we understand it. Only by adapting experiences can we expect to sustainably change behaviour.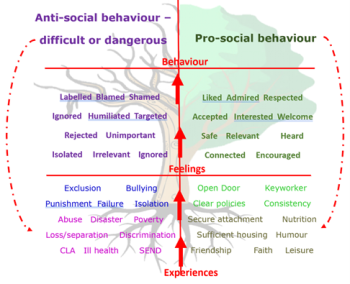 Ten Ealing high schools accessed Therapeutic Thinking training last year. Compared to the same period last year, suspensions in these schools in Autumn 1 reduced by 14% whereas among all schools suspensions increased by 19%.
There are two further Therapeutic Thinking tutor training courses. The first session is in person at the EEC, followed by two online Teams sessions:
These can be booked via CPD online and are free to all Ealing Maintained schools and Academies.
Speech and language therapy - referral indicators
Early years colleagues are asked to share this information about speech and language therapy referral indicators with relevant families.
Include Me Exhibition
Pupils from Dormers Wells, Clifton, Mount Carmel and Greenwood participated in this competition – you can still catch their art at The Ealing Project until the 30 November.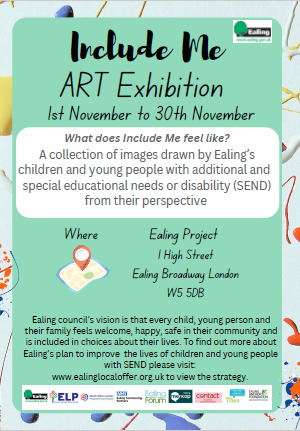 28 November at Greenford Town Hall – please signpost to your families. Share the Include Me SEND event flyer.
Insert include me send advice event flyer
Free to Ealing SENCo's and scheduled for Wednesday 6 March 2024 at Trailfinders. A nourishing and invigorating programme is being planned and there will be a marketplace of local providers and charities for you to get to know face to face. Email sendline@ealing.gov.uk to let us know what you would like to see there in 2024!
Inclusive Christmas in school
This resource from the North East Autism Society is a reminder to be mindful of the challenges school Christmas activities create for some of our learners. Christmas in Schools | North East Autism Society (ne-as.org.uk)
Top Tip
This month's top tip is from Rachel Aran, mainstream and ARP Senco at Drayton Green:
Keep positive. It is really hard and sometimes feels like nothing will work. Something might be successful one minute and then a complete bust the next. Keep trying and keep being consistent. And always make time to chat to colleagues and take time out.
Did you Know?
The average reading age in the UK is 9 years, 16.4% of adult have low literacy skills in English - meaning reading information about unfamiliar subjects or from unfamiliar sources could cause problems.
As well as Ealing's training in teaching children with literacy difficulties – see above - SEND Station's short training sessions can upskill our staff in key strategies such as Precision Teaching, Reciprocal Reading and use of an Alphabet Arc. Cognition & Learning — SEND-Station (sendstation.co.uk)
Last updated: 20 Nov 2023