Radicalisation - the Prevent duty
The anti-radicalisation in schools for Ealing (ARISE) network was set up as a steering group for schools to enable them to share best practice around the Prevent duty. Look at the video about the key elements of Ealing Prevent toolkit:
Ealing Prevent toolkit for schools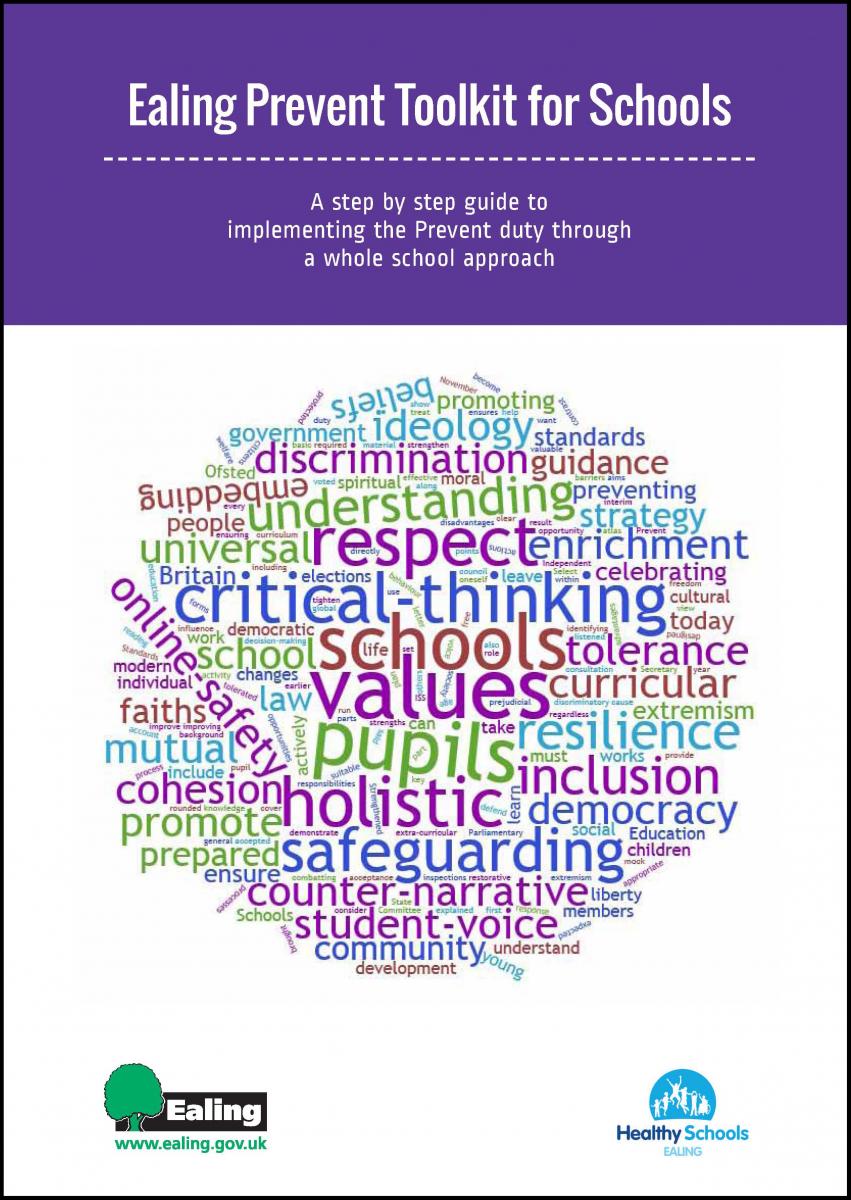 For further information, please contact Nazia Matin / Anisa Syed.
About Prevent
Schools now have a legal duty to prevent young people from being drawn to terrorism (from 1 July 2015). Schools should be alert to issues around staff, pupils and parents.
This page covers the following:
What schools need to know
Prevent risk assessments
The templates and notes listed below are not designed to replace existing risk assessments but can be integrated into those existing documents or used as an appendix to existing documents. They do not represent council policy:
Workshops (WRAP) and training
Download the Prevent staff training overview - Spring 2021 (pdf)
We still offer the Advanced WRAP training, to extend and refresh your Prevent awareness. To book onto the Advanced WRAP training email preventschoolsinfo@ealing.gov.uk. Other Prevent-related workshops can be booked on Ealing CPD online. Note: Our delivery of face to face training continues to be reviewed due to COVID-19. Please contact our team to discuss options.
Free e-learning courses produced by the Home Office:
Other Home Office training offers can be found in the Prevent training catalogue (pdf).
Should your school consider that they require a whole staff group briefing or their own workshop on the subject, you can contact the Prevent team directly.
Contact details Ealing Prevent team
General enquiries
Email: preventschoolsinfo@ealing.gov.uk
Nazia Matin
Prevent co-ordinator
Email: matinn@ealing.gov.uk
Tel: 020 8825 8895
Sonita Pobi-Busigu
Prevent education officer - curriculum guidance and training
Email: PobiBusiguS@ealing.gov.uk
Tel: 020 8825 6476
Paul Smith
Prevent safeguarding manager – all issues related to CHANNEL case management
Email: smithpa@ealing.gov.uk
Tel: 020 8825 7590
In order to monitor what is happening locally, concerns should always be passed on to Ealing's Prevent Team (details above) or where evidence exists of a possible risk to children, utilise the standard referral process in line with your agencies procedure to the ECIRS team at Ealing Council. (link under related content below).
DDCEG helpline
However, an alternate point of contact is the due diligence and counter extremism group (DDCEG) helpline. This is a dedicated telephone and email helpline monitored by the DfE's due diligence and counter extremism group (DDCEG), where schools and governors can raise concerns relating to extremism directly and in confidence:
Tel: 020 7340 7264
Available: 9am to 6pm, from Monday to Friday
Email: counter.extremism@education.gov.uk
Duty of schools and other settings
The Counter-Terrorism and Security Act 2015 (Parliament.UK), which became law in February 2015, puts a responsibility on schools to participate in work to prevent young people from being drawn into terrorism, and to challenge extremist ideas that support, or are shared by, terrorist groups.
Schools and settings (see specified authorities above) are subject to the duty to have due regard to the need to prevent people from being drawn into terrorism. Being drawn into terrorism includes not just violent extremism but also non-violent extremism, which can create an atmosphere conducive to terrorism and can popularise views which terrorists exploit.
The Prevent duty is not intended to limit discussion of these issues. Schools should, however, be mindful of their existing duties to forbid political indoctrination and secure a balanced presentation of political issues. These duties are imposed on maintained schools by sections 406 and 407 of the Education Act 1996. Similar duties are placed on the proprietors of independent schools, including academies (but not 16-19 academies) by the Independent School Standards.
The Home Office suggests that the implementation of the new legislation will be measured and proportionate, i.e. they do not expect 'instant' adoption, but they do expect reasonable measures to ensure implementation. Statutory guidance (GOV.UK) should be read in conjunction with other relevant guidance ('Working together' etcetera).
Keeping children safe in education 2016 (GOV.UK website)
Last updated: 16 Feb 2021