Walking and cycling initiatives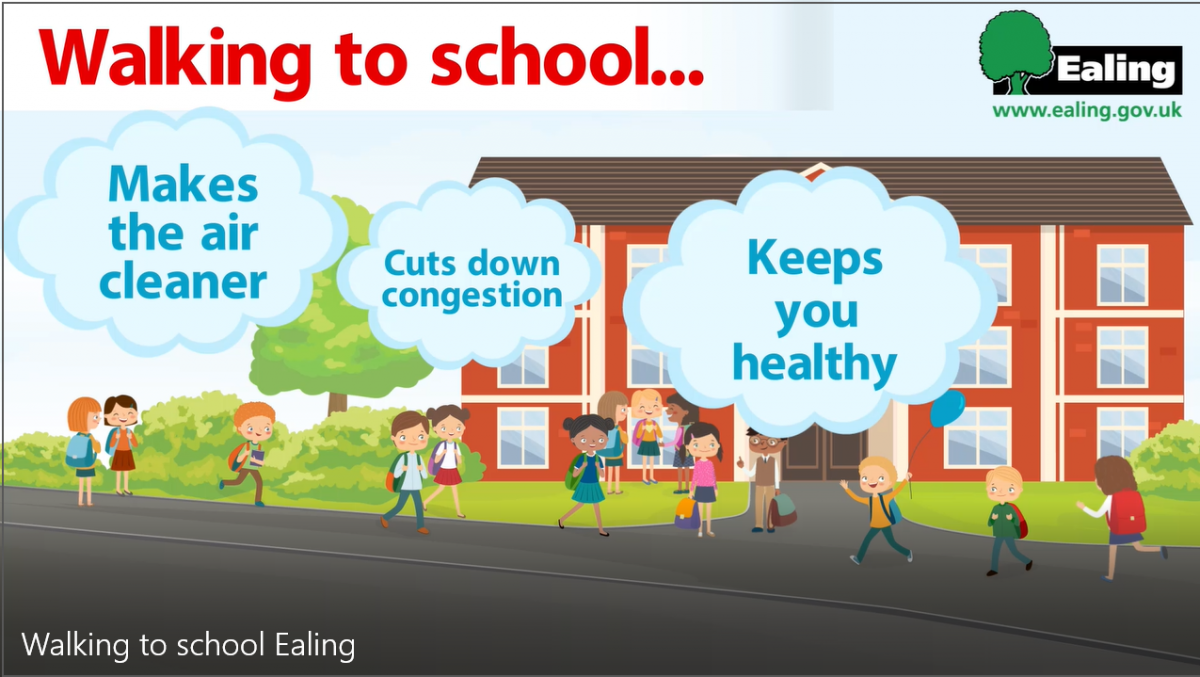 Clean air and walking to school (MP4)
We've commissioned a special walk to school to clean air media screen clip. You can add a copy to your school screens or share it through assemblies and in class.
Ealing Council initiatives for the school community to raise awareness and encourage participation in school travel plans.
Walk to school week - May
Walk to school week takes place every years in May. Living Streets website contains information and resources: lesson plans, posters and assembly plans to kick-start the week in your school.
International Walk to school month - October
International walk to school month takes places every year in October. This is another campaign promoted by Living Streets, where schools in over 40 countries encourage walking for the whole month.
Walk on Wednesdays (WoW)
WoW step by step guide (pdf) - Information on how your school can start WoW. WoW is a simple scheme that enables schools to promote walking to school throughout the entire school year. Children get badges as a reward when they walk at least once a week for a month.
Walking resources
Pedestrian skills training
Practical road safety training is available for many year three children, to help them to vecome safe pedestrians. Ealing Council offers this to priority schools, or schools can fund this themselves, to support road safety campaigns and initiatives.
The Big Pedal
Big Pedal is the UK's largest inter-school cycling and scooting challenge that inspires pupils, staff and parents to choose two wheels for their journey to school.
The challenge takes places every year in the spring term and it is free to join. You can order a free set of resources to use throughout.
View the dates of the next challenge on Big Pedal website.
Cycle training
Many Ealing schools offer cycle training provided by the council – from balance bikes on the playground to bikeability on the road. The courses help children and young people become confident and safe cyclists for the school journey or leisure cycling.
For more information:
Cycling resources
A wide range of educational resources can be downloaded from the Think! Road Safety site.
Other initiatives
Terri the Tiger
Terri is Ealing's sustainable travel mascot and can be borrowed by any school to support their school travel campaigns and initiatives. He is particularly useful if you are launching a new initiative or want to raise awareness of a campaign.
Junior travel ambassadors and youth travel ambassadors
These are student sustainable travel champions in Ealing schools. They work on projects, campaigns and initiatives to encourage the whole school community to travel actively, safely and sustainably.
Theatre in education
Ealing Council offers schools the opportunity to show various road safety and sustainable travel productions to support school travel work, including Safe Drive, Stay Alive a performance for young drivers and deadly distraction, an interactive play for years seven and eight.
Contact
If you have an querires relating to the above information, please email STA team at sta@ealing.gov.uk
Last updated: 12 Feb 2020